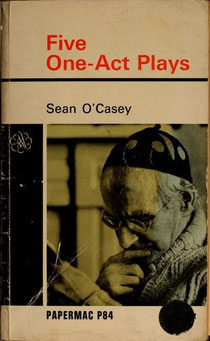 Title:      The End of the Beginning
              (A Comedy in One Act)
Writer:   Sean O'Casey
Setting:   Country house.
Characters;
Darry Berrill about fifty-five; stocky, obstinate, with a pretty big belly. He is completely bald, except for a tuft of grey hair just above the forehead.
Barry Derrill Darry's neighbour. Same age as Darry. Thin, easy-going, big moustache, and is very near-sighted.
Lizzie Berrill Darry's wife. About forty-five. A good woman about the house, but that's about all.
This play was first producded by the Abbey Theatre, Dublin, 08 February 1937.
Synopsis:
The End of the Beginning is a one-act play, written by Sean O'Casey. Macmillan & Co. first published it in 1935, along with four other one-act plays. The collection was entitled, simply, 'Five One-Act Plays by Sean O'Casey'.
The entire action of the piece takes place in the kitchen of the Berrill's farm-house. The play opens with Darry Berrill and his wife, Lizzie, arguing about who works harder. Darry is trying to persuade Lizzie to swap places with him for a day, as he is certain the 'man' working in the field does far more than the 'woman' working in the house. Lizzie becomes so annoyed with him that she agrees to mow the meadow while Darry completes the remainder of the household chores. However, Darry is easily distracted and he has not long started when his visually impaired neighbour, comically named, Barry Derrill arrives in. Both men are incapable of completing the simplest of tasks. It is not long before they begin to destroy everything in their path. A comic tale of role-reversal which shows who the real boss is.
My thoughts:
The End of the Beginning is a wonderful, comic, piece of theatre and a fine example of the one-act play. Sean O' Casey is celebrated for his highly political plays, such as; The Plough and the Stars or Juno and the Paycock. However, The End of the Beginning shows how extremely funny he could be, and the nature of this play enabled him to really showcase that talent. I knew nothing of this play, until, by chance, I attended a production of it at the Comédie-Française - Studio Theatre in Paris. I watched a French theatre company perform it entirely in French, I can speak only a few words of French but this did not matter as the meaning of the play wrung through in the physicality, humour and its universal situations. It reminded me a lot of the early silent 'Laurel & Hardy' films. When I returned to Ireland I immediately tracked down a copy of the play and to my joy it was even better when I read it.
O' Casey is so good at capturing the spirit of the Irish character and he's even better at writing hilarious confrontations from The Young Covey and Peter in The Plough and the Stars to Darry and Lizzie in this play. 
This would be a great choice for any theatre company, amateur or professional. It has a small cast of three; the set required is quite large but easily overcome. It would certainly be a crowd pleaser. A perfect choice for a one-act festival or indeed it could be accompanied with one of its companions in the collection. Would love to see another production of this, preferably in English but I'm not fussy.
Useful links:
See the full list of my A Play A Day series here
If you like it, share it!