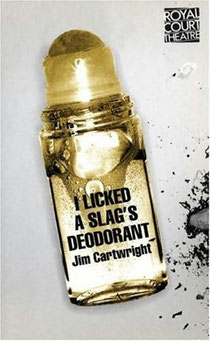 Title:        I Licked A Slag's Deodorant
Writer:    Jim Cartwright
Setting:    A corner of London, 1996.
The play was first performed at the Royal Court Theatre Upstairs, 27 November 1996.
Characters;
Man
Slag
Synopsis:
I Licked A Slag's Deodorant is an extremely short one-act play by Jim Cartwright. Cartwright is better known for his later plays; Two, Bed and Road. I Licked a Slag's Deodorant is a series of monologues, weaved together, which tell the tale of two unlikely lovers. The characters are simply named Man and Slag. Man is a loner who lives in a bare flat surviving on a diet of fish fingers and beans. He frequents strip bars merely to observe. Slag is a drug-addict who walks the streets selling her body and performing sexual acts to fund her habit. The pair seems to have nothing in common but a shared loneliness. A peculiar relationship is forged and it thrives against all the odds.
My thoughts:
This is a dark, disgusting, grotesque, bizarre and deeply saddening play, but I like it. I remember plucking it from the bookshop shelf and laughing to myself. I simply had to buy it, as I was intrigued by its outlandish title. It's certainly a play I would like to see a production of but I'm not at all sure if I would like to perform in it. I would recommend it to a theatre company that is attracted to more experimental work. This play is certainly not for your granny, maybe not even for you mother, in fact, it may even make you blush. I'm a huge fan of Jim Cartwright's work. I've been lucky enough to have seen a production of Two and Road, which, I think are far superior plays to this one. I think I'll leave this one up to you; it would be an easy play to produce with only two actors but the subject matter might be a sticking point with your audience.
Useful links:
See the full list of my A Play A Day series here
If you like it, share it!