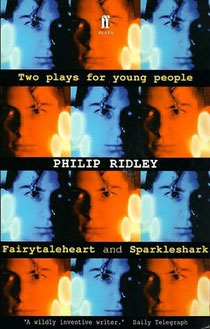 Title:        Sparkleshark
Writer:    Philip Ridley
Setting:    The rooftop of a tower block in the East End of London.
Sparkleshark was first performed at the Royal National Theatre on 15 July 1997 by Youth Lyric Theatre, Belfast.
Characters;
Jake
Polly
Natasha
Carol
Russell
Buzz
Speed
Shane
Finn 
Synopsis:
Sparkleshark is a one-act play for young actors. Set on the rooftop of a tower block in the East End of London, Jake hides from the watchful eye of the cool kids and the bullies. He spends his time writing fantastic stories inhabited by strange creatures. Polly has just moved to the area and discovers Jake's retreat along with a gang of undesirables. Jake is petrified, and resorts to weaving an impromptu story to stop the bullies from picking on him. Jake's quick thinking and imagination captivate the gang, so much so that they begin to play out the characters in the story. They make a pact to meet weekly to create more stories. Sparkleshark is a fast-paced play packed with, mystery, love and humour.
My thoughts:
I had the wonderful opportunity of seeing the original production of Sparkleshark, as part of the BT National Connections project in 1997. I was only 17 years old and just getting to grips with the world of theatre. Reading the play again reminded me just how beautiful this play is. I love how the characters can only truly express themselves and their feelings through the fictional story they concoct. In Sparkleshark Philip Ridley really captures the energy and imagination of the teenager. He also reminds us that teenagers know far more about life and relationships than we sometimes give them credit for. It has been 15 years since I first saw Sparkleshark in performance and the play's themes are still current. Philip Ridley cleverly addresses issues such as bullying, personal appearance and teenage relationships. Sparkleshark is a perfect play for a youth theatre or indeed for a theatre company that would like to produce a play with a cast of 9 young actors. Sparkleshark is a magical and thoroughly entertaining piece of theatre. Other plays by Philip Ridley include: Fairytaleheart, The Pitchfork Disney and Shivered.
Useful links:
See the full list of my A Play A Day series here
If you like it, share it!