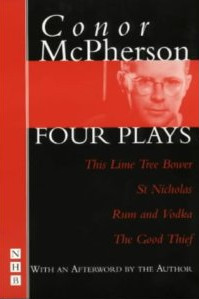 Title:        The Good Thief
Writer:    Conor McPherson
Setting:    There is no prescribed setting.
The Good Thief was first performed under the title The Light of Jesus at the City Arts Centre, Dublin, on 18 April 1994 by Fly by Night Theatre Company.
Characters;
Anonymous (Irish Male)
Synopsis:
The Good Thief is a monologue, a tale about love, crime and redemption. The story unfolds from the point of view of one character; he depends on work from a crime-boss named Joe Murray. Murray sends him on a job to scare a warehouse owner named Mitchell. The job ends with murders, kidnappings and our central character on the run. While being tracked by both Mitchell and Murray's men he begins to reflect on his chosen life style. Many people get caught in the crossfire of this action packed and emotional tale.
My thoughts:
I am a huge fan of Conor McPherson's work, he has penned many fantastic plays, such as: The Weir, Shining City, Dublin Carol and This Lime Tree Bower, to name but a few.
I have been lucky enough to have seen The Good Thief twice in performance (separate productions) and I would love the opportunity to perform this action-packed one man show. This piece requires a strong performer to convey the multitude of scenarios and emotions.
The Good Thief is a hark back to the traditions of Irish storytelling, where nothing is needed but a good tale and an audience willing to listen to it. The play is a vivid journey through the underworld of Irish crime, where life is cheap, when one man falls another is ready to take his place in the relentless pursuit of power. 
The Good Thief would suit either a theatre company or a drama group. It is a low budget piece perfect for touring. If you don't produce it then maybe I will!
Useful links:
See the full list of my A Play A Day series here
If you like it, share it!