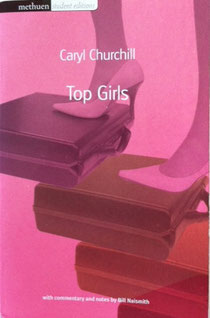 Title:        Top Girls
Writer:    Caryl Churchill
Setting:    The action of the play takes place in multiple locations. A restaurant, an employment agency and in a suburban house and garden.
Top Girls was first performed at the Royal Court Theatre, London, 28th August, 1982.
Characters;
Marlene
Isabella Bird
Joyce
Mrs Kidd
Lady Nijo
Win
Dull Gret
Angie
Pope Joan
Louise
Patient Griselda
Nell
Jeanine
Waitress
Kit
Shona
Synopsis:
Top Girls is a three-act play, about a woman called Marlene. She is a strong, independent woman who believes that women should be successful in business.
As the story unfolds we realise that Marlene has turned her back on her family and her illegitimate daughter in order to progress her career.
The play moves between reality and fantasy with moments of flashback.
Set in Thatcherite  Britain, it questions the rights and responsibilities faced by the modern woman.
My thoughts:
I have to say I was slightly disappointed by this play, as I'm usually a huge fan of Caryl Churchill's work, especially plays such as: The Shriker, Mad Forest and A Dream Play. Top Girls was a difficult read, due to the constant overlapping of dialogue. This, however, would not be a problem in performance but it was an over used device in my opinion. I found Act One far too long and unnecessary, it seemed like an elaborate prologue. However, there are some great scenes, for example, the one between the young girls Angie and Kit, this scene is full of energy and suspense. The scene where the agency office ladies are gossiping is also very entertaining.
Top Girls would suit either a theatre company or a drama group. It has sixteen female roles. In the original production some actors played several roles. It has multiple locations and a lot of costume requirements. It wasn't for me but it might be for you.
*There are possible female audition monologues within this piece.
Useful links:
If you like it, share it!