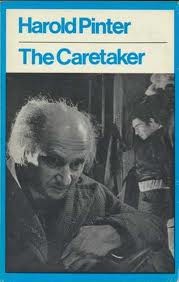 Title:       The Caretaker
Writer:    Harold Pinter
Setting:    The action of the play takes place in a house in west London.
This play was first presented by the Arts Theatre Club at the Arts Theatre, London, 27th April, 1960.
Characters;
Mick, a man in his late twenties.
Aston, a man in his early thirties.
Davies, an old man.
Synopsis:
This three-act play involves interactions between a mentally challenged man, Aston; a tramp, Davies, whom Aston takes in for the night, as he's down and out; and Aston's younger brother (Mick), who appears responsible for the house. All three are vying for their place in the world and indeed in the very room, in which, the play is set.
My thoughts:
I absolutely loved this play, I've read a lot of Pinter's work and this is certainly one of my favourites. The simplicity of the text draws you right in and you feel like one of the characters, sat in the attic room, listening to the conversations unfold. The play is extremely funny but also menacing at times. This is definitely a play for right now, it will sit nicely in these recession hit times. A perfect play for a small company, as it is a three-hander. The set is quite substantial, however, a clever designer would soon make this play economically viable but also tour-able. Read it or go see it. You won't be disappointed.
*There is also a lovely piece by Aston which would work well as an audition monologue.
 Useful links:
If you like it, share it!