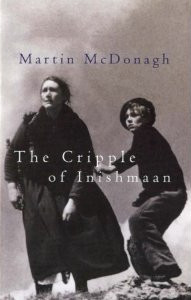 Title:       The Cripple of Inishmaan
Writer:    Martin McDonagh
Setting:    A strange and comic tale set on a remote island off the west coast of Ireland in 1934.
This play was first performed at th Royal National Theatre, on 12th Dec, 1996.
Characters;
Kate, mid sixties.
Eileen, mid sixties.
Johnnypateenmike, mid sixties.
Billy, seventeen/eighteen. Crippled.
Bartley, sixteen/seventeen.
Helen, seventeen/eighteen. Pretty.
Babbybobby, early thirties. Handsome, muscular.
Doctor, early forties.
Mammy, early nineties.
Synopsis:
"Cripple" Billy Claven has lived on the island of Inishmaan with his two 'aunties', since his parents died on the sea when he was a little boy. An outsider because of his appearance, Billy dreams of an escape from Inishmaan. He aims for his escape when a filmcrew comes to a nearby location to film "Man of Aran".
My thoughts:
Extremely funny piece packed with dark comedy but also has tender and sensitive moments. McDonagh captures the wit and character of the islanders beautifully. This is sure to be a real crowd-pleaser. McDonagh, for me, really pushes the boundaries of political correctness. The play has both nine characters and nine scenes and would suit both amateur and professional theatre companies.
Useful Links:
If you like it, share it!